Recycled Oil Drum Sculptures
from Haiti
The designs are chalked out on flattened steel oil drums and then cut out with a mallet and chisel. This art form began in the late fifties with a blacksmith whose name was Georges Liataud. Many talented sculptors have since followed. These works are perhaps the most innovative in sculpture since Calder's Mobiles and grace such prestigious institutions as the Museums of Modern Art in Paris and New York.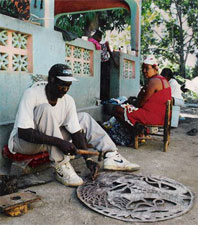 These sculptures are made to be used inside or outside. Outside they eventually do begin to turn a beautiful patina. Should you prefer the original finish, you may choose to take it down every 18 to 24 months and spray it with a clear gloss varnish. This can be found in any art store or hardware store. We recommend Krylon Crystal Clear.


Angel by Haitian artist Romel - 24"
$95 # LP5016

Palm Tree - 24"
$95 # LP5010

Octopus Sun 24"
$60 #LP3041

Windswept tree by artist Romel 24"
$75 # LP4047

Turtle by Julio - 22"
$50 #LP3031

Sun with birds - 24"
$75 # LP4045

Starfish Sun - 24"
$60 # LP3042

Mermaid - 34" x 8"
$75 # LP4018

Three Dancing Mermaids 24"
$75 # LP4063

Mermaid 24"
$95 # LP5066

Tree of Life 34" x 24"
$105 # LP5004

Sun Face 34"
$150 # LP5048

Palms 24"
$75 # LP4040

Three Beautiful Angels 30" x 30"
$198 # LP6009
Shipping cost for Oil Drum Carvings:
$17.50 for 1, 2 or 3 items to the same address of same or similar size not exceeding 24"
$35.00 for 1, 2 or 3 items to the same address with any item being over 24".
Be sure to contact us with your list of item numbers to get the best shipping rate for multiple items. Single items can be ordered using the "Add to Cart" buttons and these rates will be added to your total.
Note these rates apply only to continental US addresses.
Home Page
Contact

Garden Plants
Cycads
Flowering Tropical Plants
Flowering Tropical Trees
Flowering Tropical Vines
Palm Trees
Succulents
Tropical Bamboo
Tropical Foliage Plants
Tropical Water Plants

Botanical Gardens
Palm Trees For Sale
Garden Articles
Creating Recycled Garden Art
Creating Garden Design Elements
Create a Garden Compost
About Garden Recycling
Responsible Lawn & Garden Watering
Frogs in the Rain
Mosquitoes
Nature's Maintenance Crew
Vanishing Bees

Garden Market
Garden Art for sale

Home Interior Design Market
Masks, etc.
Paintings
Antiques/Collectables
Vintage Etchings & Prints
Haitian Paintings
Collector Quality African Masks & Statues

Information
About Yanzum
FAQ (Policy Page)
Associates & Referrals





©MMIII - MMXIII All parts of this website are copyrighted and may not be used without written permission
EditRegion5